Let's face it, the dress code in America, in general, is quite casual. From athleisure to sweatpants, you can get away with wearing almost anything, even high-heeled Crocs. But when you visit Rome, Italy, and Vatican City, the fashion standards change significantly.
Italians take great pride in their fashion – it is called Bella figura in Italian. If you're eager to fit in while wandering around Rome and Vatican City, make sure to elevate your wardrobe. But the Vatican City dress code is even more particular. Surprised? You probably shouldn't be, but most people are shocked to find out what you can and can't wear in this holy part of Italy.
Why is there a Dress Code in Vatican City?
The Vatican is a fascinating independent city-state and the heart of the Roman Catholic Church. It's the Pope's home base when he's not traveling, and as a religious state known as the Holy See, it has its own general dress code.
Like many other religious institutions, the Vatican in Vatican City encourages modest attire and skin covering. Remember, if you don't follow the dress code for the Vatican, the guards have the authority to deny you entry to the city and its attractions.
But don't worry if you find yourself unprepared or without appropriate clothing in Rome. You can conveniently purchase plastic cloaks or shawls that elegantly wrap around your knees and shoulders, offering a temporary solution to comply with the dress code.
See Related: Must See Ancient Roman Ruins in Rome, Italy
Top Tours of the Vatican
Before getting to the dress code, do you have your tickets? You can purchase your tickets directly from the Vatican, or through a partner which allows for a guide. These are the top tours we recommend for the Vatican.
Rules of the Vatican Dress Code
The Vatican is pretty straightforward about what you can and cannot wear. To abide by the rules, your outfit must follow the following restrictions:
What Can You Wear at the Vatican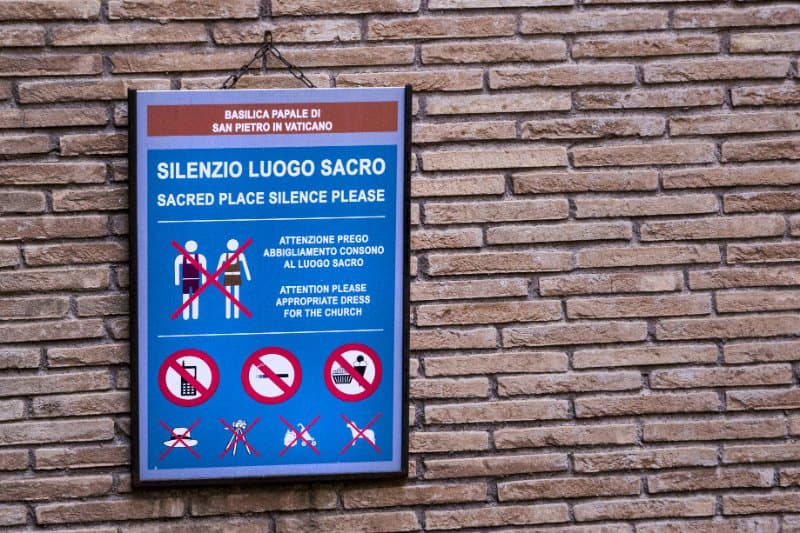 1. Shoulder-covering blouses or T-shirts
Rule one of the Vatican dress code: your shoulders must be covered. At the Vatican, sleeveless tops are forbidden – this aspect of the Vatican dress code applies to men and women. That's right, no tube tops, tank tops, or camisoles.
It can be difficult for tourists in the hot summer months. One way to wear a tank top to the Vatican is to bring a light sweater or scarf. You can cover your shoulders with a shawl while touring Vatican Museums, St. Peter's Basilica, the Sistine Chapel, and other religious sites in Vatican City.
2. Trousers or mid-length/long skirts
When it's scorching hot outside, it can be inconvenient to be prohibited from wearing shorts in the Vatican. But, they have a steadfast rule of keeping at least knee length.
The best option is to wear a long skirt or dress that falls around the knees. This length helps you stay cool and makes it easier to use public transportation.
Men can occasionally wear longer shorts, but it is generally recommended as appropriate attire to wear pants like jeans or trousers. Opt for lightweight linen trousers to stay comfortable during the sweltering summer months when the Vatican museums are crowded.
See Related: Best Time to Visit Rome
What You Cannot Wear at the Vatican
1. Hats
The Vatican is a religious institution, and hats are not allowed inside unless for religious reasons. Women can wear headscarves inside.
The no-hat rule is not unique to the Roman Catholic church. Other religions also apply this rule, such as in synagogues and other religious institutions.
2. Low-cut shirts and crop tops
The Vatican dress code prohibits low-cut or revealing shirts for women. But men have also been denied if their t-shirt goes too low. This is due in part to Catholic morality. In general, it is best to wear modest clothing to Vatican City.
There is no specific rule to belly crop tops, but it is bad manners to reveal too much skin. If you choose to wear a low-cut shirt or crop top, make sure to bring a cover-up. In the summer in Rome it can get quite hot. Bring a lightweight shirt or cover up when you go to the Basilica to avoid bare shoulders and any unwanted attention during your visit.
3. Shorts or skirts
The Vatican dress code requires knee-length skirts, dresses, trousers, and shorts. Wearing shorts, in general, is looked down upon but not against the rules. Short shorts, however, are forbidden.
If you're itching to wear shorts during the hot summer in Rome, make sure they are not short shorts and adequately cover you. It is best to dress in more modest attire.
4. Offensive slogans or images
When visiting Vatican City, the best dress code advice is to be respectful. Offensive slogans and images are not welcome. While it is not an official rule, it is common decency. If you are wearing a slogan or image that is offensive enough, you may be asked to leave the Vatican.
5. Wearing flip-flops
Avoiding flip-flops and open-foot flats is best when visiting the Vatican because they don't meet the dress code standards. The Vatican values modest attire, including proper footwear. Flip-flops and open-foot flats are seen as too casual and informal for the sacred atmosphere of this holy site. To honor the Vatican's traditions and show respect, it's recommended to choose closed-toe shoes that are more formal when you visit. Tennis shoes, closed-toe shoes, and boots are always allowed.
See Related: Best Things to Do in Rome, Italy
Is The Vatican Dress Code Enforced?
YES. The Vatican dress code is strictly enforced. Do not try to bypass it! Many tourists are refused entry or ejected from the Vatican every day simply because they didn't try to abide by the dress code. But the dress code itself isn't too strict. So while the enforcement is pretty tough, what you can wear is pretty flexible.
What Happens If You Break The Vatican's Dress Code?
It all depends on the situation. In most cases, a guard will ask you why you are dressed the way you are. Sometimes, they may let you pass. But, the most common reaction is that you will be politely asked to leave.
If you violate the dress code, the most crucial thing to remember is that you are not permanently banned from the Vatican. You can go back to your hotel, dress better, and come back. If it's a matter of showing skin, you can also buy a scarf and wrap it around you to get entry to the venue.
Conclusion
So there you have it, the practical guide to the code for the Vatican. No matter your religious beliefs, one thing is certain: respect is key when visiting this revered destination.
As you step onto the sacred ground of the Vatican, remember to honor its traditions by embracing the dress code. It's a small gesture that goes a long way in paying homage to the sanctity of this remarkable place. After all, showing respect is not only expected but also an essential part of the experience.
FAQs
Can You Wear Jeans To The Vatican?
Yes, you can wear jeans. No bans are made on the material that you wear.
Can You Wear Shorts To The Vatican?
Shorts are allowed as long as they go below the knee. If your shorts are the type to hover right at the knee, there's a good chance that you might be denied entry. 
Can You Wear Flip-Flops To The Vatican?
No, flip-flops are considered to be too casual for the Vatican. If you want to keep your feet cool, stick to proper sandals or formal shoes. On a similar note, excessively dirty sneakers can also get you turned away. 
Can You Bring A Backpack Or A Bag To The Vatican?
Due to the crowds that certain attractions draw, many areas of the Vatican say that no backpacks are allowed and people must bring backpacks and large bags to check them upon entry. Small bags and wallets are allowed. The Vatican understands that you may need to tote some stuff occasionally. 
Do children have to follow the Vatican dress code?
Yes, children are not exempt from the guidelines. While the dress code for kids may be more lenient, it's still advisable to dress them appropriately and respectfully. Shorts shouldn't be too short, and shoulders must not be visible.
Is there a dress code for attending a Papal Audience?
Yes, there is a dress code for attending a Papal Audience. Both men and women are expected to cover their shoulders and avoid wearing shorts, sleeveless tops, or revealing clothing. Additionally, hats or head coverings should be removed upon entering the audience area.
Are there any exceptions to the Vatican dress code?
The Vatican dress code is generally strict and applies to all visitors. But, there may be some minor exceptions for specific circumstances, such as religious reasons, disability, or in certain designated areas. It's always recommended to adhere to the dress code as closely as possible to show respect for the sacredness of the Vatican
Related Resources